GEL NAIL COLOR CHANGE
Temperature Color Changing UV GEL
KCE Temperature Color Changes UV Gel Nail Polish comes in 18 Colors. When the Temperature Change the Color of the Nail will Change. When the Temperature of the Nail is low (cool) the Polish will be a Dark Color. As the Temperature goes up the Color will Turn to a Lighter Different Color. Example: The Color (11) can Change from Purple to Pink.  
Color: 18 Colors
Sopecial Temperature Change Color Nail Polish For Nail Art
Superior Quality
Simple to Use: Dry by UV LED Lamp
Amazing is that it changes every time temperature change
---
GEL NAIL COLOR CHANGE DEMO
---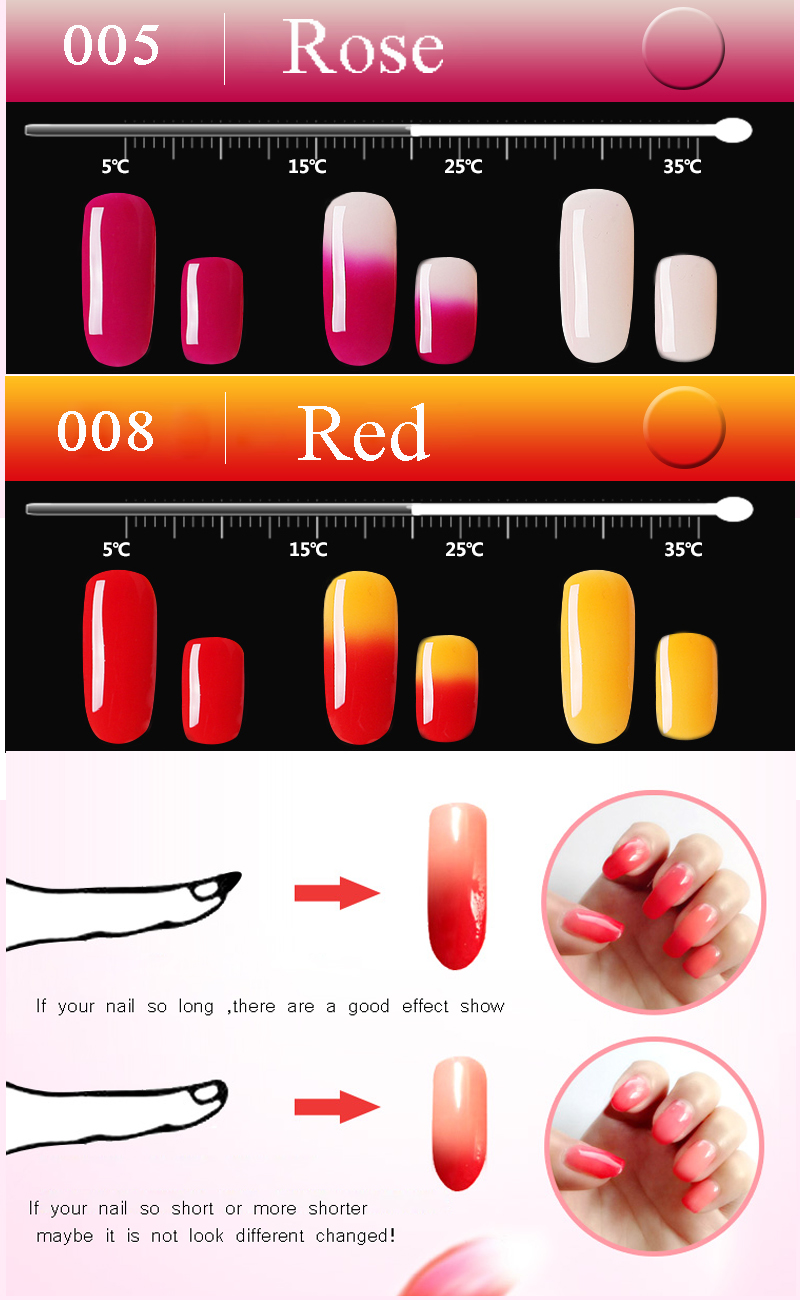 ABOUT COLOR CHANGING POLISHES
How do Color changing nails work:  
Thermal polishes are technically known as thermochromic, which means they change colour ("chromic") when they experience changes in temperature ("thermo").
These temperature-controlled products use pigments known as leuco dyes. These clever systems consist of tiny little spheres called microcapsules, which are about 1 to 10 microns across (that's between one thousandth and one hundredth of a millimetre).
Leuco Dyes: A leuco dye (from the Greek leukos: white ) is a dye which can switch between two chemical forms; one of which is colorless. Reversible transformations can be caused by heat, light or pH; resulting in examples of thermochromism, photochromism and halochromism respectively.
Inside the spheres, there's a carefully controlled ratio of three types of chemicals:
1. Dye – This is a coloured chemical which can undergo a reversible reaction, combining with a H+ ion to become colourless.
2. Weak acid – This is a colourless chemical, which can also undergo a reversible reaction, combining with the H+ ion.
Under some conditions, the H+ is attached to the weak acid, which means the dye is coloured, and the whole situation looks coloured (the situation on the left hand side of the diagram).
Under other conditions, the H+ is attached to the dye, making it colourless, and since the dye's the only component which has colour, then the whole situation looks colourless and see-through (the situation on the right hand side).
3. Solvent – As you might've guessed, it's the third component which controls which situation occurs! The third component is a solvent which has a melting point (when it changes from solid to liquid, like ice melting into water) around the temperature at which you want the colour to change.
When the solvent is solid (cold), the H+ prefers to stick to the weak acid (coloured dye), whereas when the solvent is liquid (hot), the H+ prefers to stick to the dye (colourless dye).
Pigment and nail polish makers can mix the leuco dye with regular pigments to get a range of impressive colour changes. When the polish is warm, the leuco dye is colourless and you only see the regular pigment, but when the polish is cool, the colour you see is a combination of the leuco dye and the regular pigment
---
Here are Step-by-Step instructions on how to apply the Gel Nail Polish.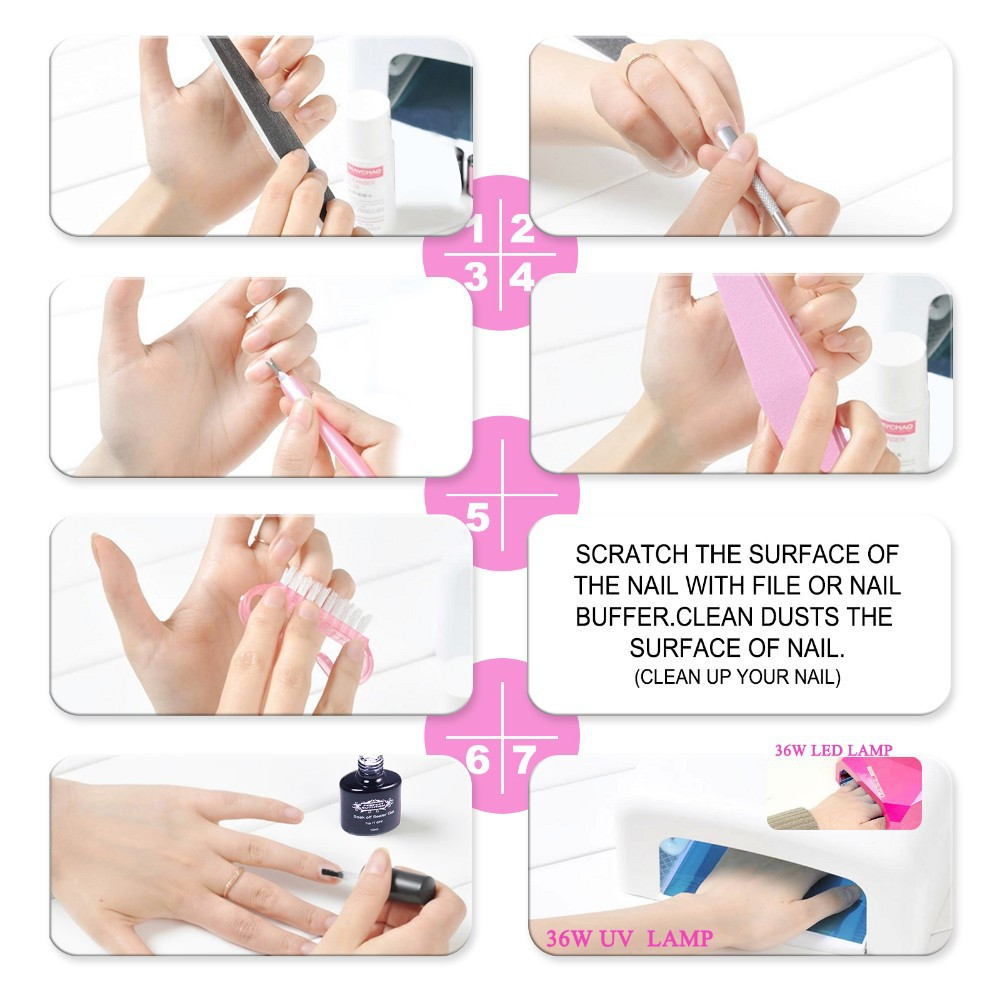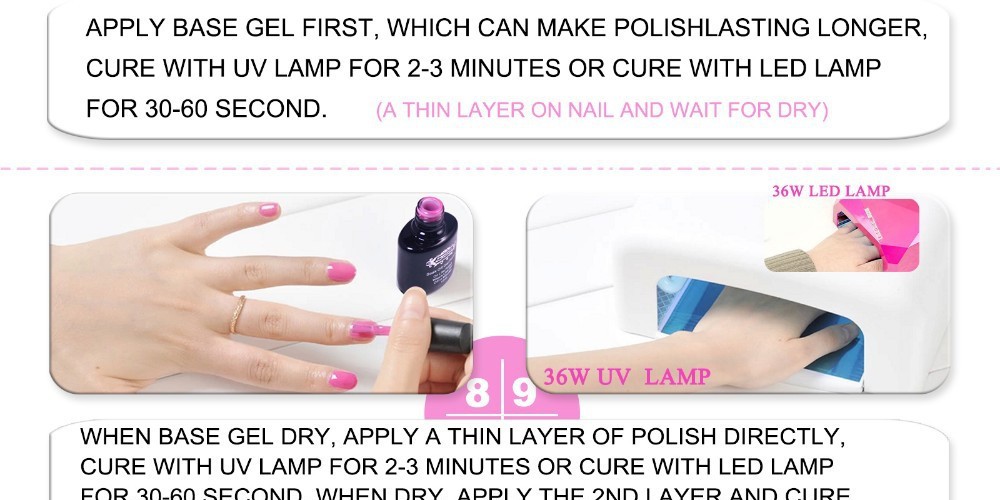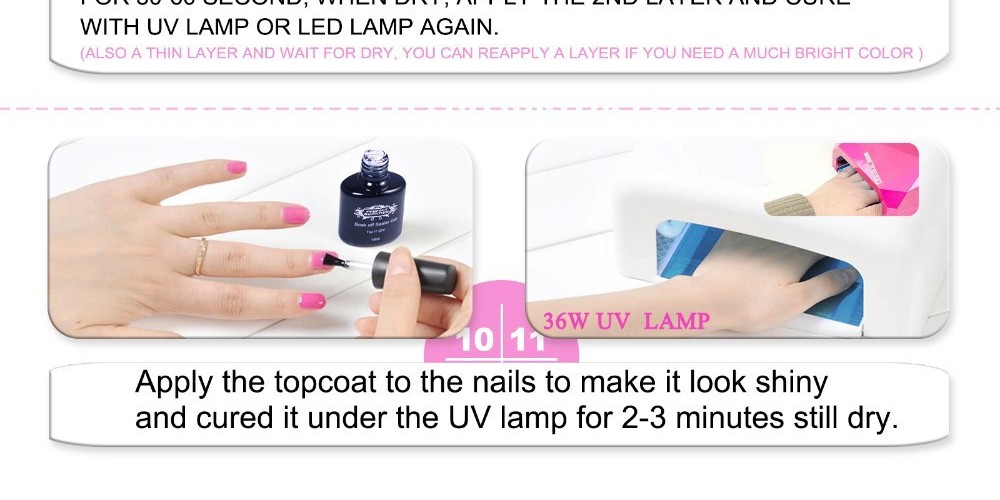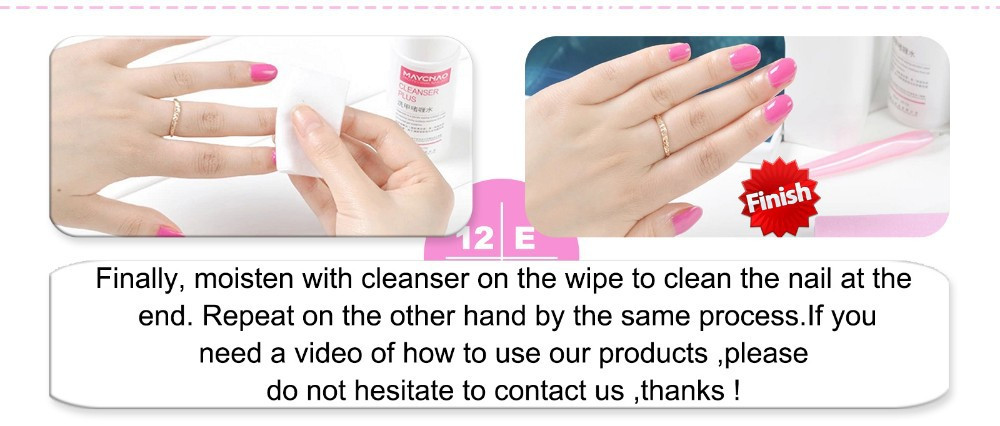 ---
Keep Your Nails Healthy with one of these Culitcle Oils